Violence has marred the opening games of the Euro 2016 finals in France, with the most serious disorder happening in the lead up to the England v. Russia game in Marseilles on Sat 11th June. The
BBC
reported clashes in the Vieux Port area before and after the game, with French Police using
water cannon
and tear gas to disperse fans. In the aftermath, the French authorities have urged banning
alcohol
sales in cities hosting subsequent games, and UEFA has
reportedly
begun disciplinary proceedings against Russia (French prosecutors have also been
reported
as saying that a hard core of 150 Russian fans were behind the violence), with the threat that both England and Russia could be disqualified if there is a repeat of the disorder.
The 'English disease' or inadequate policing?
As is depressingly common after football related violence involving England fans, there has been the usual rush by commentators on mainstream and social media to condemn the actions of a 'violent minority', as if it was entirely the fault of a few 'hooligans' that widespread disorder occurred, and that there were no other contextual factors to explore.The Football Supporters Federation (FSF) issued a
statement
on the violence where they rejected the idea that England fans were solely to blame. In a detailed and at times frank piece, they accept that not all England fans are 'angels', and that a small minority may have behaved in inappropriate and/or anti-social ways. However, they also argue that the anti-social activities of a minority were not representative of the vast majority of fans. Furthermore, to the best of their knowledge, none of the violence was initiated by England fans and there were also pre-planned co-ordinated & indiscriminate attacks against all England fans regardless of their behaviour;
'We have witnessed groups coming together – sometimes Russian hooligans, sometimes Marseille ultras, sometimes simply gangs of local youths – with the deliberate aim of attacking England fans eating and drinking in and outside bars and restaurants or making our way to the game. Some of them have been tooled up, some of them have had their faces masked, but all of them have been intent on starting trouble and initiating violence'.
This appears to be supported in a
Guardian
article where the British police officer in charge of monitoring England fans in France says that there is evidence that a large group of up to 300 Russian fans planned and prepared for confrontation with the England fans before the game. The Irish Times journalist
Ken Early
also argues that outdated myths are often associated with England fans (e.g. from the 70s & 80s when football hooliganism was a much greater problem) which means that they can often attract trouble from others looking for violence;
'The English crowd creates a trouble magnet, attracting the troublesome elements in the city, and the circle of chaos is complete when the aggressive police wade in with batons and tear gas'.
This then leads us onto allegations of inadequate and/or inappropriate crowd management strategies, and the FSF statement is also openly critical of the French Police: firstly in their apparent lack of action to prevent the attacks against the England fans happening; but also that when they finally did respond, their tactics were indiscriminate and ultimately counter-productive;
'Time after time, the first intervention of the French police has been to use tear gas and then water cannons. It's in the nature of tear gas that it doesn't discriminate between perpetrators and passers-by, between attackers and victims, and it often lands when the villains of the piece have already run off – leaving those who have just been attacked or in the vicinity with eyes stinging and streaming, and struggling to breathe. The other consequence of this police approach is that while it may look dramatic and effective, with people running for cover, it actually leaves the hooligans free to fight again another day. None of them are arrested, they get to slope off and re-group ready for their next assault, or to travel to their next venue.'
This is supported by an interview in the
Telegraph
, with
Geoff Pearson
(an academic from Manchester University who researches football policing) who witnessed the violence in Marseilles first hand. He was also critical of the French police, arguing that their public order tactics are often outdated and counter-productive as they seemed to escalate the situation in Marseilles when they finally responded to the initial disorder. This apparent failure in policing is also mentioned by
Clifford Stott
, an expert in the psychology of football disorder & public order policing who worked with the Portuguese Police during the Euro 2004 Championships (Stott & Adang, 2004) .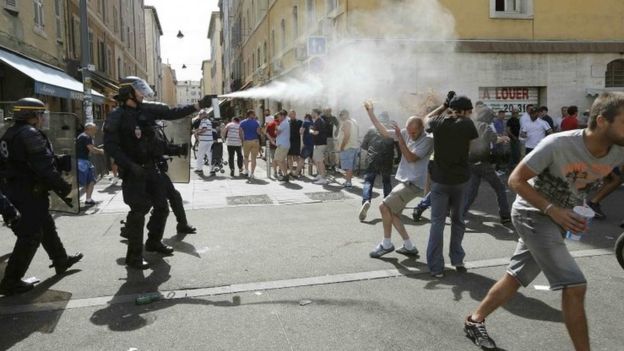 French police use tear gas in the Vieux Port, Marseilles
Comparisons
have been drawn between the behaviour of England fans with Welsh fans (there was no disorder reported around Wales' game with Slovakia), and similar comparisons were also made between England & Scotland fans during the 1998 World Cup in France, which also saw disorder in Marseilles involving England fans, implying that it is something inherent to the English fans' psyche that allows hooliganism to emerge. However, there were also clashes
reported
between Northern Ireland & Poland fans before their game in Nice, so England fans were not the only ones from the UK involved in disorder this weekend. Furthermore, in a
study
of the 1998 disorder in France, Stott et al (2001) concluded that it wasn't the presence or absence of 'hooligans' that explained why disorder happened in some areas and not others. Instead, they found that collective violence was more likely in the situations where there was an atmosphere of inter-group hostility that contributed towards fans seeing violence as an acceptable response to what they felt were illegitimate attacks against them by other fans or the local Police.
'Stampede' in the Stade Velodrome?
There was also a specific incident in Marseille's Stade Velodrome towards the end of the game that is of particular concern. Around the time that Russia equalised, Russian fans broke through a thin line of
stewards
and charged the England fans, causing a crowd
surge
. It seems that there were inadequate numbers of stewards separating the England & Russia fans (a Mail on Sunday journalist
tweeted
that there were only five between the 2 sides), and the England fans quickly fled once they realised what was happening. This incident has been widely reported as a
'stampede'
, and there were also
reports
via Twitter that women and children were inadvertently trampled in the crush. My own research on crowd flight (Cocking, 2013) has found that the notion of an irrational 'stampede' is rarely backed up by detailed examination of what happens in these situations, and that people often try to help each other during such surges if it is physically possible to do. Therefore, there is little evidence that people deliberately trample over each other as they flee, and in the rare situations where this can happen (such as the
Haj
disaster in Sept 2015), it is usually because crowd density has become so high in a moving crowd that a
crowd collapse
happens, and if someone falls over, there is a domino effect whereby people cannot stop themselves being pushed over those on the ground because of the physical pressure in the crowd. Therefore, I am wary of describing such incidents as 'stampedes', and in the photo below, there are at least two people in the crowd who seem to be reaching behind them to help others over the barrier- which doesn't match with the selfish and/or irrational behaviour implied by the term.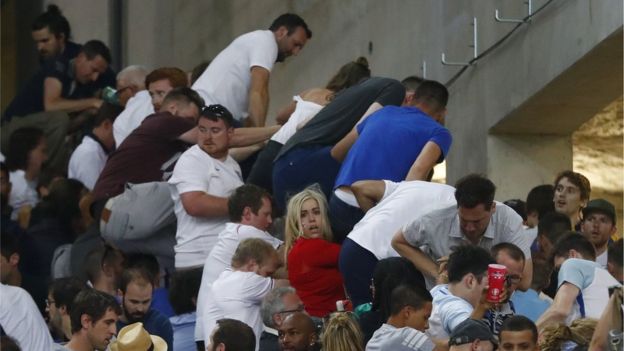 England fans climb over barrier in the stadium to escape
Conclusion:
The events of this weekend are of serious concern, and it would be a tragedy if the Euro 2016 championship is allowed to be defined by this early disorder. However, I worry that it is all too easy to slip into lazy narratives relying on outdated historical concepts of football 'hooliganism' that can apportion the entire blame onto the wrong targets and prevent detailed examination of what actually happened. In a previous
blog
on pitch invasions, I argued that society often engages in moral panics about football fans, and I worry that a similar process is at play here. While England football fans may not always behave like angels, I think it is premature to rush to demonize them in the wake of any disorder and we need to carefully explore what other factors that contributed to the disorder in Marseilles. This is all the more vital because now that the truth about the Hillsborough disaster is widely accepted (that fans were not to blame & that crowd management failures were responsible), we must not allow ourselves to slip back to the outdated narratives about the dangerous and/or 'irrational' behaviour of football crowds that have been so prevalent in recent history.
Cocking C. (2013) Crowd flight during collective disorder- a momentary lapse of reason?
Journal of Investigative Psychology & Offender Profiling,
10 (2) p.219-36. DOI:10.1002/jip.1389

Stott, C. J. & Adang, O.M.J. (2004) 'Disorderly' conduct: social psychology and the control of football 'hooliganism' at 'Euro2004'. The Psychologist. 17, 318-319.